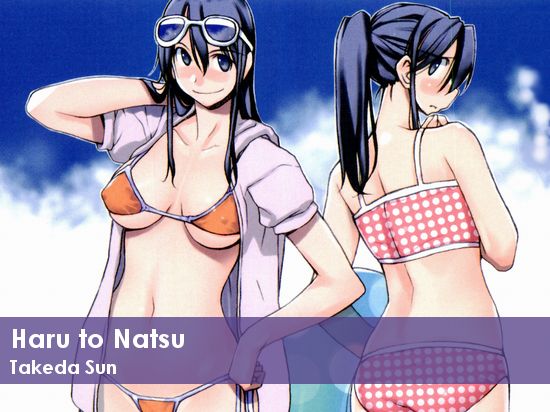 Original Title: ハルとナツ (Haru to Natsu)
Author: Takeda Sun (武田すん)
Genre: Comedy, Ecchi, Romance, Seinen
Serialized In: Young Animal Zoukan Island (ヤングアニマルあいらんど)
Year: 2009
Status in Japan: Ongoing series.
Story
Makoto meets a sweet, shy girl named Haruna helping out at the school's athletics festival. He confesses his feelings for her the next time he sees her, and she bluntly rejects him, only to call him later and ask him out herself! The source of all these mixed signals is Haruna's "evil" twin sister, Natsumi. Natsumi is the opposite of Haruna, she's a forward, crude girl bent on taking whatever she can from her twin sister. Makoto is stuck in between Haruna and Natsumi, as they viciously fight over who will win him in the end.
Download chapters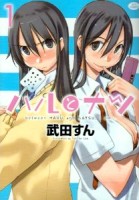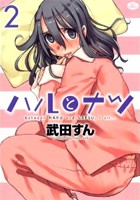 Chapter 4.5||
Download
|
Download
Chapter 5 || Coming soon…
Chapter 6 || Coming soon…
Chapter 7 || Coming soon…
Chapter 8 || Coming soon…
Chapter 9 || Coming soon…
Publishing schedule in Japan
Dates in Japanese format: YYYY-MM-DD
Tankoubon Compilations
ハルとナツ Vol.1 | Chapters 01-04 | Published on 2010.03.29 | ISBN: 9784592146537
ハルとナツ Vol.2 | Chapters 05-09 | Published on 2011.05.27 | ISBN: 9784592146544
ハルとナツ Vol.3 | Chapters 10-?? | Published on 2012.09.28 | ISBN: 4592146557
New chapters in Young Animal Island
Chapter 1: published on ヤングアニマルあいらんど No 7 (2008.08.29)
Chapter 2: published on ヤングアニマルあいらんど No 8 (2009.03.27)
Chapter 3: published on ヤングアニマルあいらんど No 9 (2009.08.21)
Chapter 4: published on ヤングアニマルあいらんど No 10 (2009.12.9)
Chapter 5: published on ヤングアニマルあいらんど No 11 (2010.03.29)
Chapter 6: published on ヤングアニマルあいらんど No 12 (2010.06.29)
Chapter 7: published on ヤングアニマルあいらんど No 13 (2010.10.29)
Chapter 8: published on ヤングアニマルあいらんど No 14 (2011.02.28)
Chapter 9: published on ヤングアニマルあいらんど No 15 (2011.05.27)
Chapter 10: published on ヤングアニマルあいらんど No 16 (2011.09.06)
Chapter 11: published on ヤングアニマルあいらんど No 17 (2011.12.28)
Chapter 12: published on ヤングアニマルあいらんど No 18 (2012.03.29)
Chapter 13: published on ヤングアニマルあいらんど No 19 (2012.06.29)
Chapter 14: published on ヤングアニマルあいらんど No 20 (2012.09.28)
Chapter 15: published on ヤングアニマルあいらんど No 21 (2012.12.21)
Chapter 16: published on ヤングアニマルあいらんど No 22 (2013.03.29)