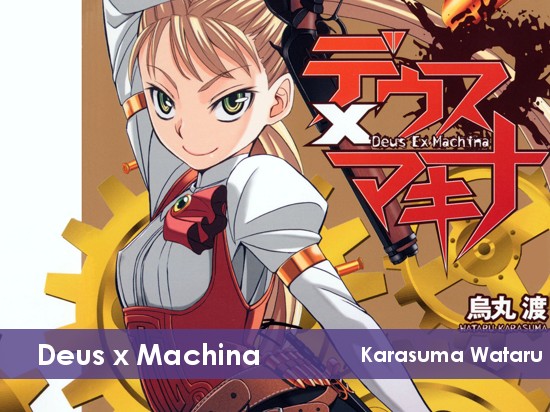 Original Title: デウスXマキナ ( Deus x Machina )
Author: KARASUMA Wataru
Genre: Action, Drama, Fantasy, Mecha, Shounen
Serialized In: Dengeki Daioh (Media Works)
Year: 2008
Status in Japan: Finished Series (4 tankoubons; 27 chapters).
Story
Clockworkers are advanced killing machines created during times of war. Despite the fact that war is no longer present, they continue to kill, so it's now up to the CWA Organization to search and destroy them. One of the most lethal agents in the CWA is Machina, a violent girl who along with her companion, Deus, relentlessly destroys all Clockworkers who cross her path.
Download chapters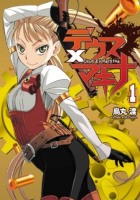 VOLUME 1
Released by Horobi no Michi
Chapter 1 ||
Horobi no Michi
Chapter 2 ||
Horobi no Michi
Chapter 3 ||
Horobi no Michi
Chapter 4 ||
Horobi no Michi
Chapter 5 ||
Horobi no Michi
Chapter 6 ||
Horobi no Michi
Chapter 7 ||
Horobi no Michi
Chapter 8 ||
Horobi no Michi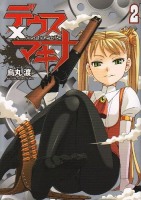 VOLUME 2
Released by Horobi no Michi (9-12)/ Riceballicious (12-15)
Chapter 09 ||
Horobi no Michi
Chapter 10 ||
Horobi no Michi
Chapter 11 ||
Horobi no Michi
Chapter 12 ||
Horobi no Michi
|
Riceballicious
Chapter 13 ||
Riceballicious
Chapter 14 ||
Riceballicious
Chapter 15 ||
Riceballicious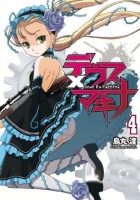 Publishing schedule in Japan
Dates in Japanese format: YYYY-MM-DD
Tankoubon Compilations
デウスXマキナ Vol.1 | Chapters 01-08 | Published on 2009.02.27 | ISBN: 4048676326
デウスXマキナ Vol.2 | Chapters 09-15 | Published on 2009.10.27 | ISBN: 4048681907
デウスXマキナ Vol.3 | Chapters 16-21 | Published on 2010.05.27 | ISBN: 4048686208
デウスXマキナ Vol.4 | Chapters 22-27 | Published on 2010.12.18 | ISBN: 4048701894