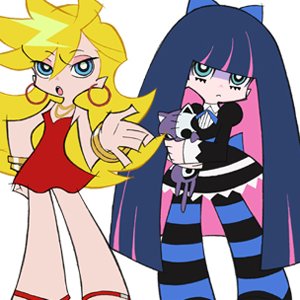 Original Title: パンティ&ストッキングwithガーターベルト – Panty & Stocking with Garterbelt
Author: GAINAX / Tagro
Genre: Action, Comedy, Ecchi, Seinen
Serialized In: Young Ace
Year: 2010
Status in Japan: Complete Series
Scanlation Status: We dropped the project after chapter 1.
Story
The main heroines are some kind of fallen angels who fight against ghosts in Daten City. They power up when they strip themselves. As you can guess, Panty takes off her panties and Stocking takes off her strip stockings. We are lucky, the guy called Garterbelt doesn't take part in this stripping. Panty is a girl addicted to sex, and Stocking is addicted to candies. They have a dog called Chuck.
Download chapters