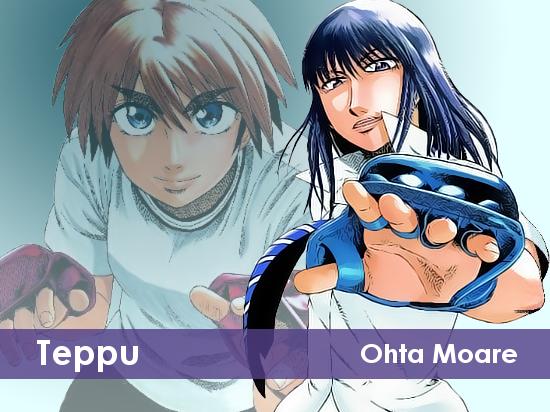 Original Title: 鉄風 – Teppu
Author: Ohta Moare (太田モアレ)
Genre: Sports, Martial Arts, Seinen, School Life
Serialized In: Good! Afternoon
Year: 2008
Status in Japan: Ongoing series.
Story
Ishidou Natsuo is a gifted girl who can achieve anything she wants in sports. Because of this she is permanently bored, as there aren't any real challenges to her abilites to make her feel alive. One day she receives an invitation of a merry girl to join her martial arts club. Irritated by her happy expression, Natsuo decides to accept the invitation just as a pretext to beat her up, but she receives a shocking surprise.
Read it online
Read Teppu in our online reader
Download chapters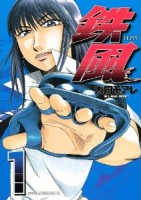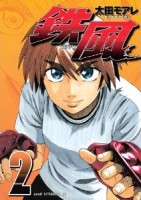 VOLUME 4
Chapter 13 ||
Download
Chapter 14 ||
Download
Chapter 15 ||
Download
Chapter 16 ||
Download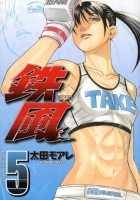 VOLUME 5
Chapter 17 ||
Download
Chapter 18 ||
Download
Chapter 19 ||
Download
Chapter 20 ||
Download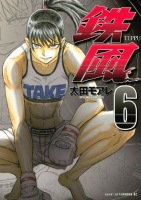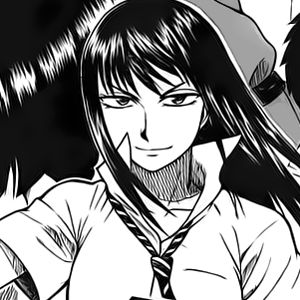 VOLUME 7
Chapter 27 ||
Download
Chapter 28 ||
Download
Chapter 29 ||
Download
Chapter 30 || Coming soon…
Chapter 31 || Coming soon…
Publishing schedule in Japan
Dates in Japanese format: YYYY-MM-DD
Tankoubon Compilations
Teppu Vol 1 | ISBN 4063106373 | Ch 01-04 | Published on 2010-03-05
Teppu Vol 2 | ISBN 4063106381 | Ch 05-08 | Published on 2010-03-05
Teppu Vol 3 | ISBN 4063106985 | Ch 09-12 | Published on 2010-10-07
Teppu Vol 4 | ISBN 4063107558 | Ch 13-16 | Published on 2011-06-07
Teppu Vol 5 | ISBN 406387821X | Ch 17-20 | Published on 2012-05-07
Teppu Vol 6 | ISBN 4063879747 | Ch 21-26 | Published on 2014-06-06
Chapters published in Good! Afternoon
Chapter 01 – Published in Good! Afternoon #01 2008-11-07
Chapter 02 – Published in Good! Afternoon #02 2009-01-19
Chapter 03 – Published in Good! Afternoon #03 2009-03-07
Chapter 04 – Published in Good! Afternoon #04 2009-05-09
Chapter 05 – Published in Good! Afternoon #05 2009-07-07
Chapter 06 – Published in Good! Afternoon #06 2009-09-07
Chapter 07 – Published in Good! Afternoon #07 2009-11-07
Chapter 08 – Published in Good! Afternoon #08 2010-01-07
Chapter 09 – Published in Good! Afternoon #09 2010-03-05
Chapter 10 – Published in Good! Afternoon #10 2010-05-01
Chapter 11 – Published in Good! Afternoon #11 2010-07-07
Chapter 12 – Published in Good! Afternoon #12 2010-09-07
Chapter 13 – Published in Good! Afternoon #13 2010-11-05
Chapter 14 – Published in Good! Afternoon #14 2011-01-07
Chapter 15 – Published in Good! Afternoon #15 2011-03-07
Chapter 16 – Published in Good! Afternoon #16 2011-05-07
Chapter 17 – Published in Good! Afternoon #17 2011-07-07
Chapter 18 – Published in Good! Afternoon #18 2011-09-07
Chapter 19 – Published in Good! Afternoon #19 2011-11-07
Chapter 20 – Published in Good! Afternoon #21 2012-03-07
Chapter 21 – Published in Good! Afternoon #22 2012-05-07
Series on hiatus from May of 2012 to November of 2013
Chapter 22 – Published in Good! Afternoon #37 2013-11-07
Chapter 23 – Published in Good! Afternoon #38 2013-12-07
Chapter 24 – Published in Good! Afternoon #39 2014-01-07
Chapter 25 – Published in Good! Afternoon #40 2014-02-07
Chapter 26 – Published in Good! Afternoon #41 2014-03-07
Extra chapter – Published in Good! Afternoon #42 2014-04-07
Chapter 27 – published in Good! Afternoon #44 2014-06-07
Chapter 28 – published in Good! Afternoon #45 2014-07-07
Chapter 29 – To be published in Good! Afternoon #47 2014-09-05