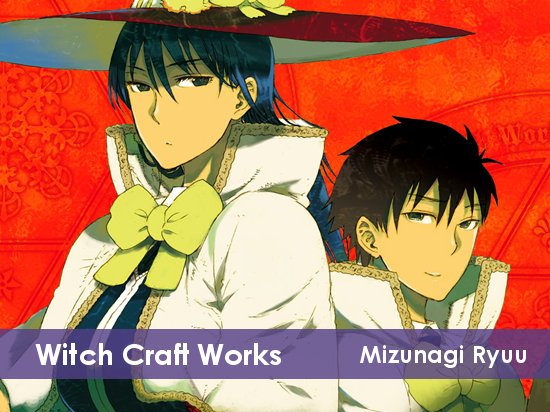 Original Title: ウィッチクラフトワークス – Witchcraft Works
Author: Mizunagi Ryuu (水薙竜)
Genre: Action, Seinen, School Life, Supernatural
Serialized In: Good! Afternoon
Year: 2010
Status in Japan: Ongoing series.
Story
Takamiya Honoka, a regular student, sits next to Kagari Ayaka, the idol of the school, a perfect girl in every way. Her hostile legion of fans harass anyone close enough to their princess, so Takamiya-kun is always in troubles. One day Takamiya faces an attack from someone unknown, but he is rescued by a powerful sorceress of fire… Kagari Ayaka herself!!
Read it online
Read Witch Craft Works in our online reader
Download chapters
Please keep in mind: these files will be deleted in some weeks/days. When they are gone, they are gone.
Volume 1 || Chapters 1-4
Volume 2 || Chapters 5-8
Volume 3 || Chapters 9-12
Volume 4 || Chapters 13-16
Volume 5 || Chapters 17-20
Volume 6 || Chapters 21-26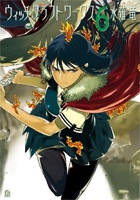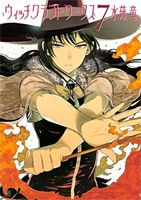 VOLUME 7
Project Dropped

Publishing schedule in Japan
Dates in Japanese format: YYYY-MM-DD
Tankoubon Compilations
ウィッチクラフトワークス Vol 1 | ch01-04 | ISBN 4063107132 | Published in Japan 2010-11-05
ウィッチクラフトワークス Vol 2 | ch05-08 | ISBN 4063107604 | Published in Japan 2011-07-07
ウィッチクラフトワークス Vol 3 | ch09-12 | ISBN 4063878104 | Published in Japan 2012-03-07
ウィッチクラフトワークス Vol 4 | ch13-16 | ISBN 406387849X | Published in Japan 2012-11-07
ウィッチクラフトワークス Vol 5 | ch17-20 | ISBN 4063878848 | Published in Japan 2013-05-07
ウィッチクラフトワークス Vol 6 | ch21-27 | ISBN 4063879313 | Published in Japan 2013-11-07
ウィッチクラフトワークス Vol 7 | ch28-?? | ISBN 406387981X | Published in Japan 2017-07-07
Chapters published in Good! Afternoon
Chapter 01 – Published in Good! Afternoon #09 2010-03-05
Chapter 02 – Published in Good! Afternoon #10 2010-05-01
Chapter 03 – Published in Good! Afternoon #11 2010-07-07
Chapter 04 – Published in Good! Afternoon #12 2010-09-07
Chapter 05 – Published in Good! Afternoon #13 2010-11-05
Chapter 06 – Published in Good! Afternoon #14 2011-01-07
Chapter 06.5 – Published in Good! Afternoon #15 2011-03-07
Chapter 07 – Published in Good! Afternoon #15 2011-03-07
Chapter 08 – Published in Good! Afternoon #16 2011-05-06
Chapter 09 – Published in Good! Afternoon #17 2011-07-07
Chapter 10 – Published in Good! Afternoon #18 2011-09-07
Chapter 11 – Published in Good! Afternoon #19 2011-11-07
Chapter 12 – Published in Good! Afternoon #20 2012-01-07
Chapter 13 – Published in Good! Afternoon #21 2012-03-07
Chapter 14 – Published in Good! Afternoon #22 2012-05-07
Chapter 15 – Published in Good! Afternoon #23 2012-07-06
Chapter 16 – Published in Good! Afternoon #24 2012-09-07
Chapter 17 – Published in Good! Afternoon #25 2012-11-07
Chapter 18 – Published in Good! Afternoon #26 2012-12-07
Chapter 19 – Published in Good! Afternoon #27 2013-01-07
Chapter 20 – Published in Good! Afternoon #28 2013-02-07
Chapter 21 – Published in Good! Afternoon #29 2013-03-07
Chapter 22 – Published in Good! Afternoon #30 2013-04-06
Chapter 23 – Published in Good! Afternoon #31 2013-05-07
Chapter 24 – Published in Good! Afternoon #32 2013-06-07
Chapter 25 – Published in Good! Afternoon #33 2013-07-07
Chapter 26 – Published in Good! Afternoon #34 2013-08-07
Chapter 27 – Published in Good! Afternoon #35 2013-09-07
Chapter 28 – Published in Good! Afternoon #36 2013-10-07
Chapter 29 – Published in Good! Afternoon #37 2013-11-07
Chapter 30 – Published in Good! Afternoon #38 2013-12-07
Chapter 31 – Published in Good! Afternoon #39 2014-01-07
Chapter 32 – Published in Good! Afternoon #40 2014-02-07
Chapter 33 – Published in Good! Afternoon #41 2014-03-07
Chapter 34 – Published in Good! Afternoon #42 2014-04-07