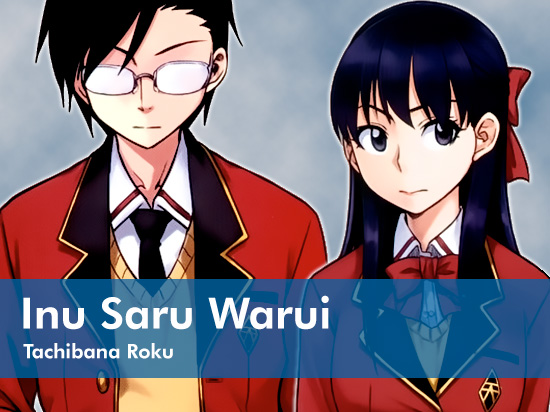 Original Title: 犬神さんと猿飛くんは仲が悪い。 (Inugami-san to Sarutobi-kun wa Naka ga Warui)
Alternate Title: Inugami-san and Sarutobi-kun have a bad relationship
Author: TACHIBANA Roku
Genre: Comedy, Ecchi, Romance
Serialized In: Young Ace (monthly magazine)
Year: 2014
Status in Japan: Ongoing series.
Story
Inugami Tsubaki is the perfect girl and has her future perfectly planned: she's beautiful, smart, skilled in sports and loved by everyone. As the future head of the most powerful financial clan of Japan, it seems nothing can stop her. However, in her first day of High School, she mets Sarutobi Sanosuke, a wicked guy who outsmarts her and quickly becomes her enemy – what's going to happen between them?
Read it online
Read Inu Saru Warui in our online reader
Download chapters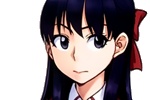 Publishing schedule in Japan
Dates in Japanese format: YYYY-MM-DD
Tankoubon Compilations
None so far
Chapters published in Young Ace
Ch 01 – Published in Young Ace #03 2014-02-04
Ch 02 – Published in Young Ace #03 2014-02-04
Ch 03 – Published in Young Ace #04 2014-03-04
Ch 04 – Published in Young Ace #05 2014-04-04
Ch 05 – To be Published in Young Ace #06 2014-05-04