That's right. After almost 2 years, Teppu is finally coming back. Every issue of Good!Afternoon features at the end a 2-pages spread with news about the next issue, and this time a small box in the issue #36 of Good! Afternoon says that Ohta Moare's Teppu is coming back in the next edition, on November 7th.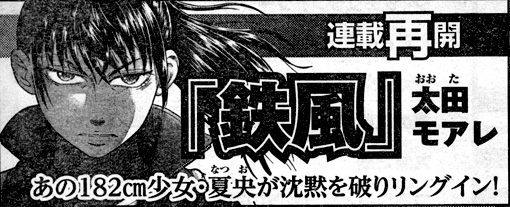 The last chapter of Teppu in Japan, ch21, was published in Good Afternoon#22 on May 7th of 2012. A full page notice about the series' hiatus was published in the following edition of the magazine.
If you haven't looked at the raws, don't dare to do it now, the cliffhanger in ch21 is unbearable! We'll release chapters 20-21 before ch22 hits the streets in Japan.